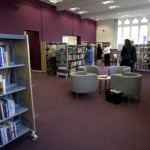 PEOPLE who are interested in finding out about volunteering are invited to talk to an expert in a series of events at Bexhill and Heathfield Libraries.
Every month at Bexhill Library and every other month at Heathfield, a 'Volunteering Champion' will be who can answer questions about volunteering and advise on how people can find the right role for them.
This is a new service in Bexhill and Heathfield from Volunteer Centre East Sussex, providing information to people interested in becoming a volunteer and details of organisations that involve volunteers.
Cllr Chris Dowling, East Sussex County Council lead member for community services, said: "Volunteering is a great way to give back to your community, make friends and learn new skills.
"These new drop-in sessions will make it easier for people to find out more about how volunteering can fit into their lives with an informal chat in a central community venue."
The Volunteering Champion will be available at Bexhill Library from 1pm to 3pm on Wednesday, June 4, July 9, August 13, September 10, October 8 and November 12 2014 and at Heathfield from 10am to noon on Tuesday, June 3, August 5 and October 7 2014.
More information on Volunteer Centre East Sussex is available by calling 01323 301757 or online at www.vces.org.uk