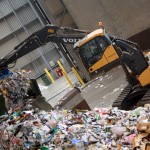 POTENTIAL waste recycling and recovery sites have been identified as part of a strategy to virtually eradicate the need for landfill in the East Sussex area.
East Sussex County Council, Brighton & Hove City Council and the South Downs National Park Authority will be asking people to have their say on the area's draft Waste and Minerals Sites Plan.
The plan, drawn up after a call for suggestions last year, identifies further potential recycling and recovery sites to meet the need for increased waste treatment capacity.
The last landfill site in East Sussex, at Pebsham, closed in November last year and only a relatively small amount of material is now sent to landfill sites out of the county.
The sites identified, none of which would be used for landfill, include specific waste sites and new development areas which could accommodate recycling and recovery facilities.
Some extensions to existing sites and certain industrial estates are also identified as being suitable for waste facilities.
Sites on the list have been chosen to avoid impacting environmentally sensitive sites and none of them fall within the South Downs National Park.
At its meeting yesterday (TUE 3), the county council's cabinet approved, subject to endorsement by the city council and National Park Authority, publication of the draft plan for a nine-week consultation beginning in July.
Cllr Carl Maynard, East Sussex County Council lead member for transport and environment, said: "This document is about future planning of where additional facilities could be located and just because a site is listed as being suitable for a recycling or recovery site doesn't necessarily mean it will be used for that purpose.
"In East Sussex and Brighton and Hove, we have already made huge strides in encouraging more people to recycle, but to enable us to achieve the high targets we've set for ourselves, we need more recycling and recovery sites.
"Virtually no household waste now goes to landfill and the proposals in the plan would serve mostly commercial and industrial waste.
"None of the potential sites would be used for landfill and any development which does go forward would use modern, clean technology which would only have a minimal impact on its neighbours.
"The consultation will give people the chance to have their say on the potential sites and their views will be taken into consideration when formulating the final plan."
The three authorities have identified a capacity gap for waste management facilities equivalent to around five major sites or 15 smaller sites.
More details, along with a list of potential sites identified under the draft Waste and Minerals Sites Plan, is available in cabinet papers online at www.eastsussex.gov.uk/yourcouncil/about/committees/meetings/cabinet.htm
Geoff Raw, Brighton & Hove City Council executive director for environment, development and housing, said: "Along with every local authority in the country, Brighton & Hove is planning for the city's potential waste management needs over the next 20 years.
"Waste management is an area where technology is improving all the time and where waste facilities are required this is helping to hugely reduce the impact on sites and surrounding areas."
"As part of our joint Waste and Minerals Plan with East Sussex County Council and the South Downs National Park Authority, we have fulfilled the need to identify sites that may be suitable for future waste management.
"In Brighton & Hove three of these – Hangleton Bottom, Sackville Coal Yard and Hollingdean industrial estate – are already allocated for waste management use in the 2006 Waste Local Plan. The fourth, the former gasworks on Roedean Road, has been included because it is on an industrial site.
"Residents and the industry will be invited to comment on the suitability of these sites for future waste management development during a nine week period of consultation starting on 4 July (if agreed by the city's Economic Development and Culture Committee on 19 June).
"No decisions have been taken to put waste facilities on any of these sites; they have been assessed as being suitable, in principle, for waste treatment and are part of the planning for potential future need."
Tim Slaney, Director of Planning for the South Downs National Park Authority, said: "We've worked closely with East Sussex County Council and Brighton & Hove City Council to establish the requirements for minerals and waste sites across the county, including the recycling and modern processing facilities that are required over the next 13 years.
"These are set out in the adopted East Sussex, South Downs and Brighton & Hove Waste and Minerals Plan. We are starting to look at possible sites and will shortly be publicly consulting on them.
"One of the criteria of the adopted Waste and Minerals Plan is to ensure that new major waste sites are away from sensitive areas and for this reason there are no proposed sites within the South Downs National Park."