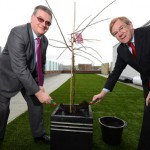 ARTISTS are being invited to add their creative touch to Seaford's new library with specially commissioned outdoor seating.
East Sussex County Council announced earlier this year that three artworks will be commissioned for three new library developments with the help of a £56,000 grant from the Arts Council. All three commissions will be under the title Transparent.
The council's library and information service is now asking artists interested in creating outdoor seating next to a busy bus stop outside Seaford Library to come forward.
"This is an exciting project and a great opportunity for an artist to make their mark on a brand new library," said Cllr Chris Dowling, lead member for community services. (pictured with Cllr Bill Bentley, left, at the Seaford development's topping out ceremony)
"As well as coming up with an original design for the seating, the chosen artist will be asked to share their creative process with library customers and the wider community to ensure everyone has an insight into the artist's work."
As well as submitting five images of previous, relevant work, artists will be asked to write a statement of no more than 500 words detailing previous experience, early ideas for creating a piece and information on how the process will be shared with the community.
Deadline for submissions is Monday, July 7 and a decision on which artist is successful will be made by a selection panel made up of library customers, elected members, members of the Youth Cabinet, members of the county's seniors association and arts specialists.
For more information visit www.eastsussex.gov.uk/leisureandtourism/arts/transparent/public-art-project-transparent.htm
Regular Seaford Library customers wanting to be part of the selection panel can enquire at Seaford Library, visit the library Facebook page or www.eastsussex.gov.uk/leisureandtourism/arts/transparent/call-out-to-library-customers.htm
Installation of the artwork at Seaford Library is expected to be complete in spring of 2015.
The county council is currently investing in a capital programme for Newhaven, Hastings and Seaford Libraries.
Seaford Library will be a part of Warwick House, which will be a shared facility comprising services for older people, supported accommodation for vulnerable adults, a café and the library.