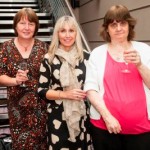 TWO learners from Eastbourne have been recognised for their efforts in overcoming adversity to boost their prospects – by achieving qualifications through courses at the town's library.
Julie Dirico, 49, and Diana Lelliott, 58, (pictured with Tutor Anita Gayton, left, from Eastbourne Library) were winners at a regional ceremony for the learndirect Inspiration Awards, organised by the online learning provider to recognise the success of learners.
Julie, a single mum who overcame her battle with the debilitating condition ME to return to work as a receptionist having completed a level one IT course at the library, received the 'into work' award.
Meanwhile, Diana was handed the 'inspiring learner' award after judges heard her education had suffered as she spent most of her childhood in hospital, and still endures regular operations, after being injured in a fire.
She achieved a level one BCS qualification in IT and is currently studying for level two, and level one English, and the confidence gained from the course inspired her to volunteer as a 'computer buddy' at the library, helping people who need support with IT and internet use.
The pair will now be considered by a judging panel which will choose national winners, to be announced at a ceremony in London on Wednesday, June 11.
Cllr Chris Dowling, East Sussex County Council lead member for community services, said: "These courses are an excellent way not only of gaining new knowledge but of building confidence.
"The achievements of Julie and Diana show that with the right help and support, anyone can improve their career prospects and their life, regardless of the adversity they've had to overcome."
The learndirect courses see participants regularly attending sessions at libraries, with courses delivered by East Sussex County Council staff at locations in Eastbourne, Hastings, Bexhill, Newhaven and Peacehaven.
Learners receive ongoing support from tutors, while they also have the option of doing additional work at home.
More information is available by calling 01323 463903 or online at www.eastsussex.gov.uk/libraries/internetandcomputeraccess/learningonline
More information about the learndirect awards is available at www.learndirect.com/awards