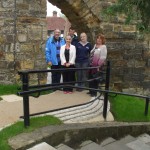 ACCESS to one of the most historic sites in East Sussex has been improved thanks to a newly-built footpath.
East Sussex County Council has installed the new path at Battle Abbey, providing an alternative route for people who wish to avoid the existing steps.
The path, in the north east corner of the site, runs alongside the perimeter wall, passing through a historic archway, so had to be designed to harmonise with the abbey's setting and to avoid harming the appearance of the abbey gatehouse.
The scheme, which includes new areas of landscaping, was completed with the support of English Heritage, which cares for and operates the attraction.
The abbey was founded on the site of the Battle of Hastings by William the Conqueror, as a memorial to the dead and a visible act of atonement for the bloodshed spilled during the clash in 1066.
Cllr Carl Maynard, East Sussex County Council lead member for transport and environment, said: "Battle Abbey is one of the most important historical sites in the county and attracts large numbers of visitors every year.
"It's important that we make the site as accessible as possible for visitors and local residents and the new path does just that.
"We've worked very closely with English Heritage to ensure the scheme was in keeping with its historic setting, and they're very impressed with the result and the high quality of workmanship."
More information on Battle Abbey and the battlefield is available online at www.english-heritage.org.uk/hastings