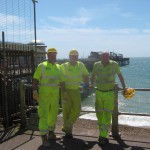 VOLUNTEERS from the Bexhill to Hastings Link Road team have given their time and skills to help the project to restore Hastings Pier.
Steve Adams, Lea White and Vinnie Fuller, under the guidance of works manager John Standing, spent two days clearing an old Victorian toilet block under the promenade which had been filled with rubbish.
It will now be used for storage by the team working on the multi-million pound project by the Hastings Pier Charity to restore and reopen the structure, which was devastated by a fire in 2010.
Bob Pape, East Sussex County Council's Link Road project manager, said: "The restoration of Hastings Pier is a very worthy cause and we are delighted to help out by using the considerable range of skills that our workforce has to offer.
"We are also working on a number of community projects across East Sussex and raising funds for local charities."
Last year the Link Road workers raised more than £1,000 for a hospice in St Leonards.
The Link Road team will be returning to carry out more work on the pier in the months ahead, and on other projects in Hastings.
David Spooner, project manager for the Hastings Pier Charity, said: "I must say a big thank you to the guys from the Bexhill to Hastings Link Road team for working so hard to clear this area. We look forward to working with the team again."
The Link Road, which is on course to open in May next year, is expected to provide a major economic boost to the area, bringing in around £1 billion of investment, with the creation of 2,000 new homes and 3,000 new jobs.
It will see the development of 42 acres of land in North East Bexhill including a 50,000 square metre business park.
The new route will also have a significant impact on relieving congestion along the A259 between the two towns, reducing problems on the A2036 to the east of Bexhill, rural roads north of Bexhill and routes through Crowhurst and Battle.