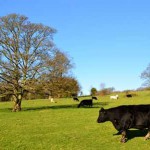 CATTLE will soon be moved to a new field in Ditchling Common Country Park as work to protect the land for future generations continue.
Landowner, East Sussex County Council and its Countryside Management Service reintroduced grazing at the park in May.
From the end of July 2014, young heifers will be moved to a new area of the country park where they will keep the bracken and scrub down by grazing and improve the environment for wildlife.
Ditchling Common Country Park is a Site of Special Scientific Interest (SSSI) because it has unimproved grassland which supports a number of rare species.
In partnership with Plumpton Agricultural College, East Sussex County Council introduced grazing at the park in May for the first time in several years. Grazing will continue until September and annually over the summer months for the next decade.
"It is vital that we allow cattle to graze at Ditchling Common Country Park as it is the best way to protect the environment for years to come," said Cllr Carl Maynard, lead member for the environment.
"Visitors can still enjoy the park and walk through the fields where cattle are grazing, but we would ask that dogs are kept under control."
Notices advising people when cattle are grazing will be posted on entrances to fields and visitors are asked to take extra care if they enter the field.
Dog Walkers are being requested to keep their pets under control as cattle continue to graze on Ditchling Common Country Park.  If there is a chance dogs might chase the cattle, they should be kept on a lead
As cattle are only grazing in one field at a time, it is still possible to walk circular walks in the country park without encountering cattle.
For more information on Ditchling Common Country Park and the grazing scheme, visit www.eastsussex.gov.uk/leisureandtourism/countryside/walks/ditchlingcommon  or call 01273 482670.