PRESS RELEASE ISSUED ON BEHALF OF THE MASHH STEERING GROUP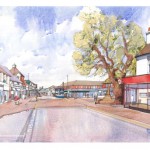 PLANS for a series of transport improvements in Hailsham and Hellingly have met with a positive response from the public.
More than 350 people attending public exhibitions or took part in a consultation on the proposals, which include improvements to Hailsham town centre and key road junctions in the area amounting to £600,000 of investment.
The scheme is being overseen by a steering group consisting of representatives from Hailsham Town Council, Hellingly Parish Council, East Sussex County Council and Wealden District Council.
The first analysis of a consultation carried out in April and May shows a largely positive response to the proposals from those who took part.
The full results will be considered by Cllr Carl Maynard, county council lead member for transport and environment, who will decide whether to press ahead with the plans at a meeting in September.
If agreed, detailed designs will be drawn up, taking into account comments received from the public, and implementation of the proposed improvements could begin in spring next year.
Cllr Jo Bentley, chairman of the steering group, said: "We were very pleased with the public response to the consultation.
"The public events were well-attended by residents and business people alike, meaning many local people have been able to make their views known.
"The partnership working between the various authorities has continued to work well and, subject to approval, we look forward to the next stage, which will see detailed designs drawn up."
The proposals focus on improving the town centre for pedestrians, bus users, taxis and delivery vehicles in High Street, Vicarage Lane, Vicarage Road and George Street.
The proposed works in the town centre are part of a wider package of transport improvements for Hailsham and Hellingly, to improve access and connectivity, funded by development contributions associated with existing and proposed developments.