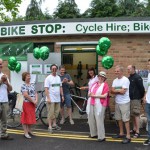 A NEW cycle hire scheme is allowing people to get around one of the most picturesque parts of East Sussex.
Forest Row Cycle Hire is aimed at residents of and visitors to the village, the Ashdown Forest and surrounding area.
The scheme has been launched by Forest Row Parish Council, which was last year awarded a grant of almost £12,000 from East Sussex County Council's community transport fund.
It offers people access to national cycle routes and the Avenue Verte, including the Forest Way linking the Spa Valley and Bluebell steam railways.
Cllr Carl Maynard, East Sussex County Council lead member for transport and environment, said: "This is exactly the kind of scheme the community transport fund is intended for and will be of real benefit to Forest Row and the surrounding area.
"It will give people greater choice as to how they get around and allow more people to enjoy the many attractions and the stunning scenery of the Ashdown Forest."
The cycle hire scheme is based at The Bike Stop, a converted former toilet block in the Lower Road car park, which also offers bike maintenance and repairs.
Cllr Alan Potter, from Forest Row Parish Council, said: "It's been great to start something so positive in a neglected part of the village.
"We are looking forward to it being a real attraction for tourists into Forest Row, boosting the local shops and giving locals access to the Forest Way as a place to enjoy cycling with their families and friends. We've already had enquiries from as far afield as France and Australia."
The scheme offers hire of adult and child cycles and trailers which can be used to carry younger children or dogs, or to transport luggage.
Prices range from £12 for half-day hire of an adult bike and £8 for a child's bike, with reduced rates on offer for Forest Row residents.
Bikes can be booked by emailing info@forestrowcyclehire.org or by calling 07539 927467. The Bike Stop currently opens for 'drop-in' hires on Saturdays, Sundays and Bank Holidays from 9am to 5.30pm.