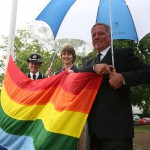 THE rainbow flag is flying over East Sussex to back this weekend's Brighton Pride celebrations.
East Sussex County Council and Sussex Police joined forces to show their support for the lesbian, gay, bisexual and transgender (LGBT) community.
County council deputy leader Cllr David Elkin and chief executive Becky Shaw were joined by acting deputy chief constable Olivia Pinkney in raising the Pride flag at County Hall, in Lewes.
This year's Pride celebrations get into full swing on Saturday, August 2 2014 with the annual parade through the streets of Brighton culminating in the Pride Festival in Preston Park.
Cllr Elkin said: "As a council we are proud of the our excellent record on promoting equal rights in the workplace, and this is an opportunity to show our commitment to equality and support for the lesbian, gay, bisexual and transgender community in East Sussex."
Acting deputy chief constable Olivia Pinkney said: "Sussex Police is pleased to once again be flying the flag in support of the celebrations. It shows our commitment to equality and our support to the diverse communities we serve."