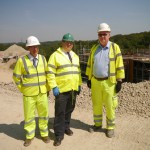 THE Director General of the Institution of Civil Engineers has visited the site of the Bexhill Hastings Link Road to help the team there promote civil engineering as a career.
Volunteers from the project have been visiting local schools and colleges in East Sussex to talk about civil engineering and give an insight into their own experiences.
"We have people here with a wealth of experience and talent who are keen to encourage others to follow their example and build a career in civil engineering", said Bob Pape, East Sussex County Council's Project Director for the Bexhill Hastings Link Road.
"We are delighted that such a prestigious organisation has recognised what we are doing."
"Staff from the team have enjoyed going into schools and colleges to talk about their enthusiasm and passion for the subject. We will continue this until the road opens next Spring.".
The link road will display I.C.E's 'This is Civil Engineering' campaign banners and signs at sites on the six kilometre project.
These also feature a "Quick Response" code which links to a dedicated page on the www.ice.org.uk/What-is-civil-engineering/This-is-civil-engineering explaining more about civil engineering.
"This is a simple, no frills way of communicating to the public what civil engineering is and increasing awareness of its importance to society, " said the Director General, Nick Baveystock.
"We are very grateful to Bob and his team for the way they are helping to educate youngsters in East Sussex about the possibilities of careers in civil engineering."
"Without civil engineers, the world as we know it would not exist… because they build the infrastructure that supports our daily lives. Each time you turn on a tap, turn on a light, flush a toilet, catch a train, cross a road… you are benefiting from civil engineering"
The road, which is on course to open in May 2015, will bring major economic benefits to Bexhill and Hastings including 2,000 new homes, 3,000 new jobs and more than £1 billion of economic benefits.
It will also relieve the high level of traffic congestion on the A259 between the two towns.
The Institution of Civil Engineers was founded in 1818 and granted a royal charter ten years later. Its founding message was to "foster and promote the art and science of civil engineering." I.C.E provides an internationally recognised qualification for the profession and is a centre of knowledge and excellence.  It has more than 80,000 members worldwide, including 11,000 in the South East of England.