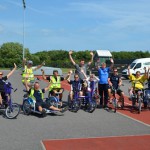 IN A first for East Sussex, disabled riders were given the chance to test drive thousands of pounds worth of adapted bikes at a special taster day.
East Sussex County Council's Bikeability team will be purchasing a range of adapted bike based on feedback from those who took part in the day and setting up a training centre – the first for the county.
The event at Eastbourne Sports Park, Cross Levels Way, Eastbourne attracted more than 60 people from disability charity Mencap and Bourne Free Youth Club, who were able to test out 15 different types of specially adapted bikes.
"This was a unique opportunity for us to try out these amazing adapted bikes before we launch our own biking for all sessions," said Liddy Leeding, Bikeability manager for the county council. "They proved a big hit with the many people that attended and we are now committed to getting this up and running as soon as possible."
The bikes for the event were supplied by Wheels for All, a nationally recognised programme that helps to set up centres across the UK.
To find out more about the training centre in Eastbourne contact Liddy Leeding on 01273 482490 or by emailing liddy.leeding@eastsussex.gov.uk