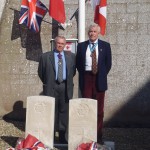 THE ceremonial head of East Sussex County Council has paid tribute to those who lost their lives on one of the darkest days of World War Two.
Council chairman Cllr Colin Belsey joined other East Sussex dignitaries in marking the 72nd anniversary of the Dieppe Raid of August 19 1942 during a visit to the French town.
The disastrous operation, for which Newhaven was the principal port of departure, resulted in more than 3,300 Canadian troops being killed, wounded or taken prisoner, along with 275 British commandos.
Dignitaries joined representatives of veterans' associations in a programme of events including an evening vigil at the Canadian cemetery, a laying of wreaths at services of remembrance and a ceremony at the graves of two young Canadian airmen at St Aubin-le-Cauf.
The party, accompanied by Dieppe mayor Sebastien Jumel, also visited villages where locals had sheltered allied soldiers and had the chance to meet older residents who still have vivid memories of the raid and its aftermath.
Meanwhile, at Val d'Arquet, near Dieppe, M. Jumel showed guests a new affordable housing project where each street bears the name of a young soldier killed in the doomed raid, which was aimed at testing allied readiness for an invasion of Nazi-occupied Europe.
Also attending the commemorations was Sister Agnes-Marie Valois, now aged 100, who as a young nursing sister braved the enemy guns to minister to the wounded and dying on the beaches.
Cllr Belsey said: "It is a privilege to be able to take part in these very moving ceremonies, remembering the Canadian and British servicemen who suffered here and the support given to them by the brave people of Dieppe.
"The commemorations are still extremely important to the local people who give their English and Canadian guests a very warm welcome."
M. Jumel added: "It is a huge honour to once again welcome our friends from East Sussex, who join us to remember the sacrifices made in 1942.
"We in Dieppe and the Seine-Maritime are dedicated to continue working with you for the benefit of both our communities."
The civic party included Cllr Belsey, High Sheriff Christopher Gebbie, chairman of Lewes District Council Cllr Tony Nicholson, mayor of Newhaven Cllr Judith Ost and mayor of Brighton & Hove Cllr Brian Fitch.