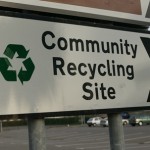 CHANGES to the opening hours of three household waste and recycling sites in East Sussex are due to come into effect.
Facilities in Forest Row, Wadhurst and Seaford will open three days a week from October 6, 2014.
All three sites will open Fridays and Saturdays from 8am and 4pm and Sundays between 9am and 4pm.  They will be closed from Mondays to Thursdays.
The changes follow a public consultation last year on the East Sussex Waste Strategy, which included proposals for the full closure of the facilities. Feedback from residents led the county council's cabinet to agree alternative proposals for reduced opening hours.
"As with every authority in the country, we are having to make difficult decisions to achieve necessary savings," said Cllr Carl Maynard. "Closing these three sites for four days a week will go some way to help us achieve these savings.
"We listened carefully to the concerns and points raised by members of the public during an extensive consultation and, in response to that feedback, agreed to the alternative plan to keep the three sites open.
"By reducing the opening hours, we have been able to balance the requirement to make savings with local need for services."
With two thirds of visits to the three sites taking place on Fridays, Saturdays and Sundays, the majority of residents will be unaffected by the changes.
Those needing to use the facilities on the remaining four days can use any of the other nine household waste recycling sites within East Sussex.  Alternative sites are available within a 10 to 20 minutes' drive.
The East Sussex Waste Strategy reviews how the county's waste will be managed up until 2025.
The nearest alternative sites to Forest Row and Wadhurst are (opening times below are from 1 October):
• Crowborough Household Waste Recycling Site, Farningham Road, Crowborough – open Monday to Friday 9am to 5pm, Saturday 9am to 1pm and Sunday 9am to 1pm.
• Maresfield Household Waste Recycling Site, Batts Bridge Road, Maresfield – open Monday to Saturday 8am until 4pm and Sunday 9am until 4pm. 
The nearest alternative site from Seaford is (opening times below are from 1 October):
• Newhaven Household Waste Recycling Site, New Road, Newhaven – open Monday to Saturday 8am until 4pm and Sunday 9am until 4pm. 
From April to September, opening hours are generally extended by an hour in the afternoon, to take advantage of the lighter evenings.  The county council will publicise next year's summer opening hours in March.
The county council is reminding people that waste must not be left outside any household waste recycling site if the site is closed. Sites are under constant surveillance by CCTV. Anyone who fly tips waste on or near a household waste recycling site is liable to prosecution.