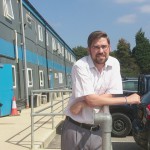 A MEMBER of the Bexhill to Hastings Link Road team is setting off on an epic football grounds tour in aid of charity.
Stephen Lapthorn, a quality manager for HOCHTIEF (UK) Construction, will walk more than 500 miles visiting all 20 Premier League grounds to raise money for research into juvenile diabetes.
Mr Lapthorn, 34, from Kent, said : "My son Christopher was diagnosed with the illness when he was just two and if it hadn't been for the prompt actions of our local doctor in spotting the symptoms, he might not be here today.
"I want to raise awareness of the condition and its seriousness, the research that is being done and raise much needed funds for the researchers."
Christopher, who is now five, needs daily injections of insulin to stabilise his type one diabetes.
Mr Lapthorn will begin his walk on Friday, September 26 2014 at St James' Park, the home of Newcastle United, and finish on Friday, October 24 2014 in his home town of Gillingham.
He said: "My employers and the other contractors working on the project have been brilliant in letting me take time off and in giving me sponsorship."
So far, more than £6,000 has been pledged and Stephen hopes to at least double this figure. All the money raised will go to the Juvenile Diabetes Research Foundation (JDRF).
He will be supported on his walk by his father David, who will drive the support car which has been donated by Lexus.
A number of friends and colleagues from the link road project will also walk with him on part of his journey. David will be writing a daily blog about the trip which can be read at http://t.co/QEsLKOzcd2
Bob Pape, East Sussex County Council's Link Road project manager, said: "We are delighted to be able to support this incredibly worthwhile project and we look forward to welcoming back a much fitter Stephen at the end of October."