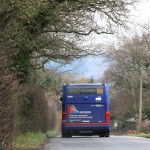 EAST Sussex County Council and Stagecoach are able to offer reassurance to a number of bus users concerned about changes the council is proposing to make to some bus services in the Hastings and Rye area. 
With the level of spending constraints the county council is facing, Stagecoach is pursuing further opportunities to develop its successful commercial bus network in East Sussex.
Following positive discussions that have been ongoing for several months between county council officers and Stagecoach, we can confirm that from March 2015 the bus company will continue to run several services currently funded by the county council on a commercial basis.
The services which Stagecoach will take over on a commercial basis are:
The evening service on Hastings and St Leonards town routes 20, 21, 22, but not as many journeys as present.
The Sunday daytime service, broadly similar to the current Hastings and St Leonards town routes 20, 21, 22 and 26, though not including Service 28. Stagecoach envisages their journeys will not run after 7.30pm on Sundays.
Service 340 (Hastings-Tenterden), which will be hourly for most of the day on Mondays to Saturdays
The Mondays to Saturdays 344 service between Hastings, Fairlight and Rye, as an hourly service.
The county council is currently reviewing the responses it has received to its bus strategy consultation.
This feedback, together with other information, will be taken into account and in December the council's cabinet will be asked to consider recommendations for the reformulated supported bus network. 
If cabinet approves the recommendations, changes to services would be made from March 2015.