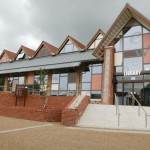 PEOPLE who've lived with mental health issues will share their experiences with library users at an event in Lewes.
The Living Library will see people whose lives have been affected by mental illness act as 'living books' who can be 'borrowed' by members of the public for a conversation about their lives and experiences.
The event will be held at Lewes Library, in Friars Walk, to mark World Mental Health Day on Friday, October 10 2014 from 1pm to 3pm.
Cllr Chris Dowling, East Sussex County Council lead member for community services, said: "Mental health problems can affect anyone but it's an issue which unfortunately people are still sometimes reluctant to talk about.
"The Living Library is a unique opportunity for library visitors to have a one-to-one conversation with people who've experienced these kind of problems about the challenges they've faced and overcome while living with mental health issues."
The event is hosted by the East Sussex Community Links service, which offers individually tailored support to enable people with mental health needs or autism to get involved with and participate within their community.
More information is available by calling Abigail Luthmann, equal access manager, on 01273 335383 or emailing abigail.luthmann@eastsussex.gov.uk