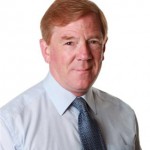 LOANS of self-help books for people with mental health concerns in East Sussex have soared since a ground-breaking scheme was introduced.
In 2006, East Sussex County Council was one of the first authorities in the country to offer the Books On Prescription service, in which GPs 'prescribe' books to people experiencing common issues such as anxiety or depression to borrow from their local library.
Across the country, loans of such titles have more than doubled since the scheme was rolled out nationally last year, with similar increases reported for each of the last three years in East Sussex, where more than 200 Books On Prescription titles are borrowed from libraries every month.
Organisers are promoting the benefits of the initiative to mark World Mental Health Day today – Friday, October 10 2014.
Cllr Chris Dowling, county council lead member for community services (pictured), said: "World Mental Health Day is a chance for us to try and raise awareness of an issue which has for too long been swept under the carpet, and to let people know that help is out there.
"We are proud that East Sussex was among the first areas to launch Books On Prescription, a scheme which has now become a nationwide success, and the feedback we receive indicates it really helps people to manage their condition and improve their lives.
"The increase in loans of self-help books demonstrates that there is an enormous need for help and understanding and managing common mental health issues, and the fact that people trust their local library as a place in which to find this kind of information.
"The scheme is not intended to replace the care people receive through the NHS, but can help people to take a first step on the road to recovery."
One in four people in East Sussex suffers from mental health issues such as anxiety, depression, phobias, panic attacks, eating disorders or sleeping problems at some point in their lifetime.
The books offered as part of the scheme use proven cognitive behavioural therapy (CBT) techniques to help people tackle the thoughts and behaviours which cause them problems in a structured, step-by-step way.
All the books are recommended and approved by national health organisations including the Royal College of GPs, the Royal College of Psychiatrists and Mind.
Recommended books are available for adults, families and young people and details can be found online at www.eastsussex.gov.uk/selfhelpbooks
More information is available by calling Abigail Luthmann on 01273 335383 or emailing abigail.luthmann@eastsussex.gov.uk