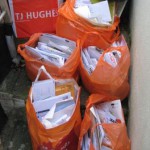 MORE than £100,000 was returned in just three months to victims across the UK thanks to the work of a mail scam-busting team led by East Sussex County Council.
The National Trading Standards Scams Team in partnership with the Royal Mail, was able to intercept post and return money to those targeted by fraudsters over the summer months.
In East Sussex around £780 was handed back to residents who responded to scam mail.
"The NST has been working to disrupt scam companies who prey on vulnerable people with false promises of winning money. Consumers are encouraged to pay a fee or buy overpriced, poor quality goods to claim their non-existent prize," said Louise Baxter from East Sussex County Council Trading Standards who heads up the NST.
"As well as being able to return victims' money, the operation has sent a clear message to those victims who still think they stand a chance of winning these fictitious cash prizes."
Since September 2012 the NST has been working to combat mass marketing fraud, which each year causes approximately £3.5billion to UK consumers.
Scams are often targeted at vulnerable or disadvantaged consumers, such as those already in debt, who can suffer disproportionate levels of harm as a result of mass marketing and other scams.
Victims in East Sussex include a man who was responding to scam mail and lost around £5,000. Led by intelligence, officers visited the man who was about to post another reply and cheque to a scam company. Following the visit the resident stopped sending money.
A second victim was an elderly man who lives alone and was sending off for 'miracle cures' advertised in scam mail, after suffering from problems with his legs for more than five years.
He did not know how much he had spent over the years but officers, who were notified by a local PCSO, believe it could run into hundreds of pounds. Tablets he received that were still in date were sent back to one of the companies and £498 was refunded to the resident.
The National Trading Standards Scams Team was founded and is hosted by East Sussex County Council and funded by the National Trading Standards Board.
."