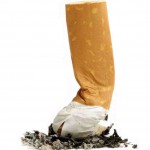 A SHOPKEEPER from Hailsham has been brought to justice after being caught selling illegal tobacco products.
Sardar Razai, proprietor of Your Local Shop, in High Street, offered counterfeit versions of well-known cigarette and tobacco brands as well as illegal brands such as the Russian made Jin Ling cigarettes.
In a hearing at Eastbourne Magistrates' Court on October 17 2014, the 25-year-old, who was prosecuted following an investigation by East Sussex Trading Standards, admitted possessing illegal tobacco products for supply and participating in a fraudulent business.
Razai was fined £400, ordered to pay £1,321 costs and a £40 victim surcharge and to forfeit the seized illegal tobacco products for destruction.
Cllr Rupert Simmons, East Sussex County Council lead member for economy, said: "People who sell illegal cigarettes are not only depriving the exchequer of revenue, they are potentially putting lives at risk.
"Illicit cigarettes do not bear the required health warnings, may not comply with fire safety regulations and in some cases can even contain lethal ingredients such as asbestos.
"Buying tobacco products of uncertain provenance threatens the livelihood of reputable traders and also risks putting money into the pockets of criminal gangs.
"I would urge anyone who knows of or suspects sales of illicit cigarettes or other tobacco products to report it to help us stamp out this illegal trade."
Officers in East Sussex Trading Standards have been working with partners of the East Sussex Tobacco Control Partnership on a campaign to highlight the dangers of illegal tobacco and target those involved in its supply.
This targeted action has resulted in a string of successful convictions against individuals involved in the supply and sale of illegal tobacco in the county.
Anyone with information about the sale of illegal tobacco is asked to contact the charity Crimestoppers anonymously on 0800 555 111 or online at www.crimestoppers-uk.org
Information given will help the Trading Standards team target those responsible and contribute to improving the health of the public by disrupting illegal traders.