BUDDING actors proved they were Kings of the Road when they took over East Sussex Highways for the day.
Their efforts can be seen on screen in a new film promoting the work of the county council's highways department.
In the film, It's No Small Job, schoolchildren play the part of council staff including head of highways Roger Williams and road workers.
"We wanted to do something different to promote the work of the highways service," said Roger at the film's premiere at County Hall on Thursday, October 23. "The film is fantastic and a unique and fun way to show residents exactly what we do.
"The children did a great job and we are extremely grateful to them and their families for committing their time to help us."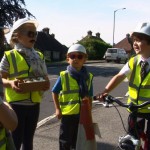 The part of Roger was played by Alfie Kennedy, a pupil at Southover Primary School and a member of Lewes-based Intrepid Drama Group.
"It was really good fun to do," said the eight year old. "My favourite part was sitting at Roger's desk when he walked in."
The film follows 'Roger' as he makes his way to the Highways depot in Ringmer and gives the viewer facts and figures about the work the team does.
At Thursday's premiere, the young actors and their families were shown the final cut of the film before it went live.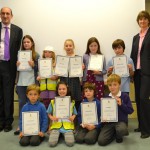 Congratulating and thanking the children for their efforts, the council's Chief Executive, Becky Shaw handed out certificates to those youngsters involved at a special ceremony in the Council Chamber.
Roger added: "Each year we invest millions in our road network, but it can often be difficult to get the message across to residents about how their money is spent.
"We hope this short film catches people's attention and gives them an idea of the great work the highways team does."