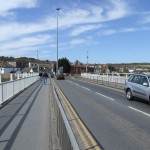 WORK has begun on a £1 million project to refurbish a bridge which forms part of a key coastal route through East Sussex.
The project will see a complete revamp of the original mechanical and electrical components on Newhaven Swing Bridge, which carries the A259 over the River Ouse.
The East Sussex County Council scheme is expected to last until May but the authority says the work will have little effect on motorists or marine traffic.
A small number of night time closures may have to be imposed on the bridge later in the project but these will be advertised well in advance.
Cllr Carl Maynard, county council lead member for transport and environment, said: "The reliability of the swing bridge is of paramount importance, both to allow traffic to flow along the main coastal route and for the smooth operation of Newhaven Port.
"The bridge is 40 years old and while it is rigorously maintained, the electrical and mechanical systems are outdated and need replacing.
"This project, which will have a minimal impact on road and river traffic, will bring the bridge into the 21st century and ensure it continues to operate reliably for many years to come."
The swing bridge opens around 20 times a month at high tide, when its deck swings open 90 degrees for about 20 minutes to allow marine traffic to pass up and down the river.
The present bridge was constructed in 1974, replacing a manually-operated structure which was coming to the end of its natural life.
The vulnerability of the existing mechanism was highlighted last autumn when the bridge opening mechanism was inundated by a tidal surge, leading to several weeks of inconvenience while repairs were carried out. The new controls have been designed to be more robust and not prone to damage from future flooding.
Many spare parts for the drive systems are becoming obsolete or more difficult to source, while the electrical elements consist of outdated relays and ancient circuitry.
The refurbishment will see these features replaced by modern technology, while the old system which opens the bridge via a gearbox and motor engaging with a chain mechanism will be replaced by a more reliable modern, hydraulic drive.
The work is being carried out for the county council by contractors AMCO Engineering.