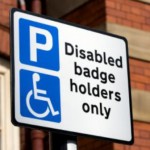 MOTORISTS misusing Blue Badges in East Sussex will be targeted as part of government funded crackdown.
East Sussex County Council, in partnership with Brighton and Hove City Council and Sussex Police, won £183,000 from the Department for Communities and Local Government to help free up spaces for disabled drivers.
The money, along with an additional investment from both local authorities, will be used to track down people who are misusing the badges which are issued to disabled people so that they can park more easily, and to raise awareness of how Blue Badges should be used.
Two Blue Badge Fraud Investigation Officers will be employed and will operate across East Sussex and Brighton & Hove to improve detection and share intelligence. They will work closely with civil enforcement officers to identify hotspots for misuse.
Councillor Carl Maynard, East Sussex County Council's lead member for transport and environment, said: "There are about 24,000 Blue Badges in circulation in East Sussex, designed to provide better and easier access to holders.
"Blue Badge fraud is widespread nationally, not just in the county and it is affecting those genuinely entitled to the benefits of the scheme. The Audit Commission estimates that 20 per cent of Blue Badges are misused and to tackle this level of fraud, we need to introduce more robust enforcement."
Councillor Ian Davey, lead member for transport at Brighton & Hove City Council, added: "Disabled people rely on Blue Badges to access all the facilities and leisure activities the rest of us take for granted. It is essential they are able to park close to where they want to go, so this funding will help us tackle misuse of Blue Badges much more effectively."
Those caught misusing Blue Badges will be offered the option of attending a training session on the effects of depriving disabled people of parking spaces, together with a financial penalty, instead of receiving a criminal record.
Chief Inspector Gareth Davies of Sussex Police said: "We have been working closely with our partners and will deal robustly with those fraudulently using the blue badges and who illegally seek to take advantage of the scheme at the expense of those it is there to assist."