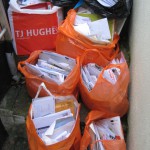 A FESTIVE day of action is being held in Sussex to support people who have fallen victim to scams.
Trading Standards teams in East and West Sussex have teamed up with the National Trading Standards Scams Team to run Operation 'Bah Scambug' on Monday, December 15.
Officers in both counties will be making personal visits to confirmed scam victims to offer support and advice to help to stop them handing over money for bogus lotteries, prize draws or clairvoyant scams in the future.
Cllr Rupert Simmons, East Sussex County Council lead member for economy, said: "The perpetrators of scams are unscrupulous individuals who prey on older and vulnerable residents, who in many cases don't realise they've been tricked.
"We are delighted that we now have the mechanism to identify these silent victims to prevent them falling prey to scammers in the future.
"These people are victims of crime and need to be provided with the support and advice to protect themselves from future harm."
The National Trading Standards Scams Team, hosted by East Sussex Trading Standards, receives intelligence from a number of sources including seized mailing lists and several national partners, which it passes on to local councils.
The lists contain details of people who have been targeted by scam letters, including invitations to take part in bogus lotteries and prize draws.
People who reply to a scam letter for the first time are put on the lists and their details sold to criminals around the world, leaving them even more vulnerable to becoming a victim again in the future.
Victims are often unaware that they have been defrauded, believing the prizes offered are genuine.
The crackdown started thanks to a national campaign which was launched in April by the National Trading Standards Scam Team which is being rolled out across England and Wales.
Anyone who is concerned about a possible scam or is worried about a friend or relative is asked to contact the Citizens Advice consumer service on 03454 040506.