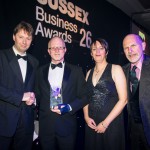 A SCHEME which helps people in East Sussex access work, education or training has landed a prestigious business award.
East Sussex Wheels 2 Work, which offers affordable loans of mopeds, motorcycles and electric cycles, was named Social Enterprise of the Year in the Sussex Business Awards.
The community interest company was launched last year using grant funding secured by East Sussex County Council from the Government's Local Sustainable Transport Fund.
The award, presented in a ceremony at Brighton's Grand Hotel on Wednesday, December 10 2014, comes as the scheme plans to expand its reach across the county.
Cllr Rupert Simmons, county council lead member for economy, said: "I am overjoyed that Wheels 2 Work has achieved such a well-deserved accolade.
"The scheme is making a real impact on people's lives, supporting them to get to work and improving their opportunities to access training or education, to support the growth of East Sussex's economy.
"The award also demonstrates the value of the Local Sustainable Transport Fund in enabling the council to kick-start a successful, sustainable social enterprise in a short space of time."
The scheme has created five jobs and helped around 150 people in East Sussex, with 90 bikes currently on the road.
With demand for bikes outstripping availability, Wheels 2 Work, based in Eastbourne, is looking to expand in 2015-16, when the service will also be made available in Hastings and Bexhill.
Max Jowett, chief executive of East Sussex Wheels 2 Work, said: "We're really pleased to receive this award, and very proud of all that we've achieved with the support of the council and the Local Sustainable Transport Fund.
"The recognition from the Sussex business community is a fantastic endorsement for us, and is significant for the sustainable development of Wheels 2 Work nationally.
"The Social Enterprise award rounds off a very busy year for us and is a testament to what can be achieved in a short time through this established business model."
More information about East Sussex Wheels 2 Work is available at www.eastsussexwheels2work.co.uk/