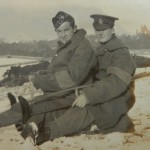 CHRISTMAS in wartime is the theme of the latest addition to a website focusing on East Sussex during the First World War.
East Sussex County Council's First World War website has a newly-added story which shows how soldiers from the county coped with Christmas away from loved-ones.
Drawing on archive diaries, newspaper articles and historic photographs, the website also looks at how the festive season was experienced on the home front.
The war diaries of the Royal Sussex Regiment reveal how Christmas Day 1914 for its 2nd Battalion 'was spent in peace, the brigade, however, being prepared to move at an hour's notice'.
Meanwhile, newspaper articles and photographs show how soldiers, lacking access to conventional Christmas cards, sent messages home on improvised 'cards', including one made out of a shell fragment.
On the home front, East Sussex was blasted by severe weather, including a 'hurricane' and severe flooding, during Christmas 1914 and 1915.
The austere wartime Christmas was enlivened for troops behind the lines by impromptu singalongs in local bars and cafes with soldiers and civilians from other allied nations, and at home by the arrival of gifted parcels sent from America, although not all of them were as they seemed.
Cllr Keith Glazier, East Sussex County Council leader, said: "The pangs of separation from loved ones must have been even more pronounced for those stationed abroad, hundreds of miles from home, at Christmas time.
"The stories and photographs on the website give a poignant indication of how the men at the front and those left behind made the best of things to try and recreate, despite the difficult circumstances, the spirit of Christmas."
The First World War East Sussex website can be viewed at www.eastsussexww1.org.uk