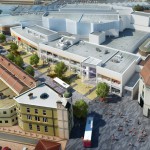 DETAILS have been announced of a major improvement project aimed at transforming Eastbourne town centre.
East Sussex County Council and Eastbourne Borough Council's £3.2 million Eastbourne Town Centre Improvement Scheme is on track to begin in September 2015.
The project, which will see the creation of a shared space for pedestrians and buses, will include pavement widening, repaving and installation of new bus stops, street furniture, landscaping and street lights.
The improvements, from Grove Road roundabout south along Terminus Road into Cornfield Road, will run alongside a multi-million pound redevelopment being carried out by the owners of Eastbourne Arndale Centre.
Cllr David Elkin, East Sussex County Council deputy leader, said: "This is a really exciting scheme which has the backing of bus and rail operators, and we'll be working closely with the owners of the Arndale Centre to make sure both schemes complement each other.
"There will inevitably be some disruption as the work is carried out so we'd ask people to bear with us, as the scheme will have real and lasting benefits for Eastbourne."
The scheme will see footways widened by two to three metres and kerbs removed between the Ashford Road junction and Cornfield Road, where new bus stops will be installed to replace stops currently sited in Terminus Road.
The road will be repaved with modern, high quality materials, while new street lights, seating, bins and bike stands will be installed, alongside landscaping features such as small flower beds and trees.
Cllr David Tutt, Eastbourne Borough Council leader, said: "This scheme, along with the improvements to the shopping centre, will have a major impact on modernising the town centre and attracting more investment into Eastbourne.
"The scheme will provide a more welcoming environment for residents and visitors."
Council officers are working with consultants to finalise the detailed designs and will be contacting local businesses in the affected area during the spring and summer to explain the scheme in more detail.
The first stage of the development, along Cornfield Road, will include repaving of footways, siting of modern bus stops and soft landscaping features and is scheduled to run from September to November 2015.
The second stage, along Terminus Road, has been programmed to avoid disruption at Christmas and will follow from January to August 2016. It includes the repaving of the carriageway and footways, introduction of small flowerbeds and modern lighting, removal of old bus stops and significant widening of footways.
People will be able to see the detailed designs for the scheme in a public exhibition to be held in May.
Neil Crawford, retail development manager at Legal & General, owners of the Arndale Centre, said: "We are delighted to have had the opportunity to financially contribute to this exciting project.
"The improvement scheme, together with the new extension to the centre and works to remodel the existing west entrance will see this part of the town centre completely transformed.
"We have been working closely with both councils to ensure the delivery of our respective works is well co-ordinated, and that any impact on local businesses and customers is kept to a minimum."