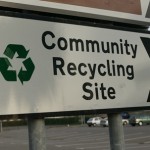 EAST Sussex sends less waste to landfill than almost any other area of the country, new figures reveal.
East Sussex County Council was the second best performing out of 31 waste disposal authorities in England for minimising the amount of rubbish which ends up in the ground.
In 2013-14, just five per cent of waste collected by East Sussex local authorities was disposed of in this way, compared to a national average of 31 per cent, with the county council on course to cut that figure by around half again this year.
Thanks to East Sussex residents, 40 per cent of household waste was recycled or composted, with the remaining 56 per cent used as fuel to produce energy.
The amount sent to landfill in the county has been slashed by 94 per cent since 2006 but the authority is asking people to help it drive down landfill rates even further by reusing and recycling more waste.
Cllr Carl Maynard, county council lead member for transport and environment, said: "Over the past decade we've made enormous strides in reducing the amount of waste sent to landfill and these figures are testament to the efforts of officers and the public.
"The measures we've taken have reduced our waste disposal costs by millions of pounds, and every bit of rubbish that residents recycle or reuse helps us to save money which can be spent on essential services.
"With the help of residents, we can continue to improve and just by recycling all our plastic packaging we could save £50,000 a year, as well as benefiting the environment."
The council, which has a target of recycling or composting half of household waste in the county by 2020, is backing the Government's Pledge 4 Plastics campaign, which urges people to recycle at least one extra plastic bottle per household per week so it can be reborn as products such as new bottles, toys, clothes or furniture.
All plastic bottles can be recycled in East Sussex, while in Eastbourne, Hastings, Rother and Wealden, people can also recycle plastic pots, tubs and trays, plastic bags and film.
Details about local recycling arrangements are available on the websites of local district or borough councils, which are responsible for household waste collection.