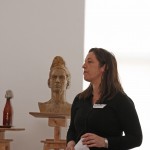 ARTS and heritage community groups and businesses may well be in line for a funding boost after taking advantage of free advice.
The East Sussex Arts Partnership ran a funding advice event at The School Creative Centre, Rye, on Tuesday, March 17 to give artists, small art businesses, heritage and community groups guidance on successful bidding.
The afternoon, which was fully booked, included presentations from Arts Council England, Heritage Lottery Fund and the East Sussex County Council External Funding team. Funding advice surgeries were also available.
"As well as enhancing the lives of local residents, cultural events bring visitors to our town and villages, create jobs and boost the local economy," said James Harris, East Sussex County Council's assistant director for economy.
"Many of the groups or individuals who organise arts and heritage events do not have a team of fundraising experts behind them and can often miss out on money available because they simply don't know it exists.
"We were delighted to see so many people at the advice event and hope that the experience will bring them success."
Organisers received positive feedback from the day with many amending their plans to take into account the funding advice they were given. The intention is to hold a further event to continue to bring the cultural sector in East Sussex together to ensure opportunities are maximised.
More information about the resources available for cultural events and projects can be found at www.eastsussex.gov.uk/leisureandtourism/arts/development
Notes to editors:
The East Sussex Arts Partnership is made up of East Sussex County Council, Hastings Borough Council, Rother District Council, Eastbourne Borough Council, Lewes District Council, Museum Advisory service and South Downs National Park Authority. The authorities work in partnership with voluntary, professional, commercial and statutory sectors recognising that the county's cultural offer can enhance the lives of people who live in East Sussex, and contribute to developing an ambitious and inspirational cultural scene in the county.
Photo caption: A representative from the East Sussex County Council external funding team speaks to arts and heritage community groups and businesses about funding opportunities