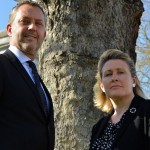 Plans to share resources with the aim of improving services and saving two county councils millions of pounds every year has became a reality.
East Sussex and Surrey officially launched their partnership – called orbis – covering services that include human resources, property, procurement, finance and information technology.
It is hoped the move, which is expected to save up to £8 million annually within four years, will pave the way for other public services to join in the future.
Kevin Foster (pictured), East Sussex's Chief Operating Officer, said: "This is an exciting opportunity and signals the strength of East Sussex and Surrey's relationship which gives us the confidence to launch this compelling alternative for the public sector."
Surrey's Strategic Director for Business Services Julie Fisher said: "The public sector should be seen as one team cooperating to save money wherever possible and Orbis is all about using our collective buying power and streamlining processes to provide better, more efficient services."