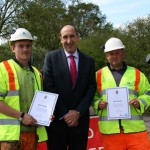 THE heroic efforts of two highways workers who came to the rescue of a stranded holiday-maker have been officially recognised.
While working at a site in South Street, Eastbourne James Maloney and Chris Randall spotted a woman stranded in the middle of a busy road.
"It was a busy day and the weather was horrible, it was pouring down," said James. "This poor lady got halfway across the road and the battery on her mobility scooter went flat. She was stuck and getting soaked."
Having spotted the holiday-maker's predicament, Chris sprang into action pushing the mobility scooter to safety, across the road and two other busy junctions.
Realising that the elderly woman could not make it home without help, James decided to push her the half a mile back to her hotel on Carlisle Road.
"She was on holiday and didn't know where she was," said James. "She was stranded with no-one to help so I decided to push her back to her hotel. It just felt like the right thing to do. I didn't mind getting wet, I had been standing out in the rain all day anyway!"
Chris added: "We've had lots of broken down cars, tyre changes and people needing help, but nothing like this. We're there to help the public, that's what we do, and I see it as part of the job. It was nice to help someone out and do a good deed."
The efforts of the pair have been officially recognised by head of East Sussex highways Roger Williams, who visited them on site to present them with certificates and give his personal thanks.
"Our workers often get a really hard time from members of the public affected by roadworks, so it is great to see them getting the praise they deserve having gone the extra mile to help someone in need," said Roger.