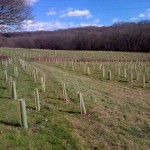 TREE planting is continuing as part of the environmental improvement work for the new Bexhill to Hastings Link Road.
More than 6,000 trees have been planted near Marline Valley Woods, next to Queensway, in Hastings, while a new management scheme for existing trees has been introduced which will ensure the area is managed as a woodland glade.
The work has been carried out in consultation with Natural England – the Government's official scientific adviser on the countryside.
Bob Pape, East Sussex County Council's Link Road project manager, said: "The tree and shrub planting programme is an essential part of our commitment to significantly reduce the environmental impact of the scheme and ensure the whole site is properly landscaped."
Overall, more than 100,000 trees and shrubs will be planted as part of the council's pledge to plant two trees for every one which has been removed to create the new road.
The environmental work will create 47 acres of woodland and see extensive hedgerow planting to provide cover while improving views and reducing traffic noise.
The Link Road is expected to provide a major economic boost to the area, bringing in around £1 billion of investment, with the creation of 2,000 new homes and 3,000 new jobs.
It will see the development of 42 acres of land in North East Bexhill including a 50,000 square metre business park.
It will also have a significant impact on reducing traffic congestion along the A259 between the two towns, easing problems on the A2036 to the east of Bexhill, on rural roads north of Bexhill and the routes through Crowhurst and Battle.