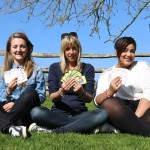 CHILDREN in care in East Sussex have come up with an innovative way of ensuring their peers know their rights.
East Sussex Children In Care Council (CICC), which represents looked after children in the county, has produced a series of playing cards bearing drawings designed by its members.
The cards, which are being distributed to young people in care around the county, also contain details of the pledges made to them by East Sussex County Council, the authority responsible for their welfare.
The scheme, the brainchild of 14-year-old CICC member David, is aimed at reminding looked after children of their rights in easy-to-understand language and in a user-friendly format.
He said: "I never actually thought that my card idea would become reality but now when I see the cards I am proud that people's lives can be made better by something I designed."
The work of the CICC, made up of 16 looked after children aged between 11 and 18, is being highlighted as part of Foster Care Fortnight, which runs until Sunday, June 14.
East Sussex was one of the first areas of the country to set up a CICC and its members have earned national recognition from figures including children's minister Ed Timpson.
Members, who serve a three-year term, provide support to other young people in care and regularly meet councillors and senior council officers and attend national events to share their issues and concerns.
Cllr Sylvia Tidy, East Sussex County Council lead member for children and families, said: "While our staff do a magnificent job, sometimes only another child in care can really understand what one of their peers is going through.
"The Children In Care Council is all about looked after children helping each other and ensuring their voice is heard and they have a real say in how they are cared for."
Successes achieved by the CICC include negotiating for children in residential care to receive the same pocket money as those in foster care.
Foster Care Fortnight is an annual campaign run by charity The Fostering Network to raise the profile of fostering and highlight the need for more carers.
Anyone who thinks they might be able to foster a child in East Sussex can find more information online at www.eastsussex.gov.uk/foster