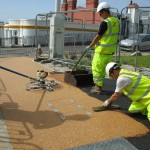 A ROAD in Bexhill will be closed for five days as a scheme aimed at improving pedestrian conditions and boosting the town's economy reaches its conclusion.
East Sussex County Council is resurfacing a section of Marina between Linden Road and Wilton Road, following work to widen footways and improve bus stop facilities in the road.
The road will be completely closed to traffic from Monday, June 29 to Friday, July 3 2015 with workmen on site between 8am and 6pm.
The scheme, which is being carried out alongside improvements to Marina Court Garden by Rother District Council, is aimed at improving pedestrian links between the seafront and town centre.
Cllr Carl Maynard, county council lead member for transport and environment, said: "I'd like to take this opportunity to thank residents for their patience and understanding throughout this scheme.
"We have encountered some issues along the way which have required additional work, including repairing a collapsed sewer, which means the work is finishing a little later than planned.
"However, hopefully people can already see the difference the work is making with the footway widening and improved paving which has already been installed.
"The scheme, along with the revamped Marina Court Garden which our colleagues at Rother are completing, will encourage more people to walk between the seafront and the town centre, with all the resultant benefits to the town economy that will bring."
A signed diversion route will be in place during the work linking Sackville Road and Sea Road via Parkhurst Road, St Leonards Road, Western Road and Endwell Road.
Devonshire Road will be closed at the junction with Marina, as will Linden Road, Albany Road, Albert Road and Eversley Road, which will temporarily become two-way streets to allow residents in and out.
During the work, motorists will still be able to enter the De La Warr Pavilion car park, which will be accessible via Channel View West.
The bus stops in Devonshire Road and Marina will be suspended for the duration of the work, with a temporary stop in place in Parkhurst Road. The taxi stand in Devonshire Road will remain open while pedestrian access will be unaffected.
Anyone who has queries regarding the work is asked to contact the council's highways contact centre by calling 0345 6080193, emailing highways@eastsussex.gov.uk or via Twitter @esccroads