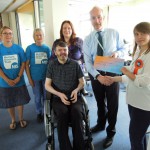 BIG-hearted council workers got baking to raise money for two multiple sclerosis charities.
Staff from East Sussex County Council's business support team raised £1,000 after giving up their time to make, buy and eat cakes and other home-made goodies.
They were inspired to take action in support of one of their colleagues, Nancy Higgins, from Hassocks, whose husband, Colin, has primary progressive multiple sclerosis.
The fund-raising efforts included biscuit and cake-making, a buffet lunch and raffle with more than 40 prizes donated by employees and the council's staff canteen.
The money was split between the MS Society and Multiple Sclerosis Trust, with a cheque presented in a ceremony at County Hall, in Lewes.
Mrs Higgins said: "We were blown away by the fund-raising support and would like to say a huge thank you to everyone for their contribution.
"It's extremely touching that people were inspired to focus the great fund-raising skills of the business support team to those affected by MS and the thought of this support has been very uplifting to us, especially when it's been a tough day."
The council's business support team are veteran charity fund-raisers, having previously supported Movember and Marie Curie.