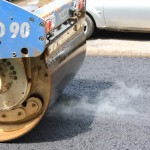 A SECTION of the northbound A22 has been closed for repairs following a serious car fire early this morning (June 11).
The road, between its junction with Diplocks Way and the Boship Roundabout in Hailsham, was severely damaged by the fire and will need to be repaired.
Resurfacing work is due to take place this afternoon and the road is expected to reopen shortly in the early hours of Friday, June 12.
Roger Williams, head of highways for East Sussex County Council, said: "I would like to apologise for any inconvenience caused by this emergency road closure. The damage to the road poses a serious risk to road users and it is vital that we carry out these repairs as quickly as possible.
"Diversion routes will be signposted and we hope to have the road reopened shortly after midnight."