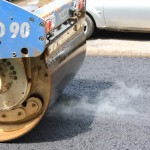 CHANGES have been announced to a major resurfacing scheme on the A268 in Rye – to ease access to a town medical centre and hospital.
East Sussex County Council is resurfacing a two-and-a-half mile stretch of the road between the A259 at Rye and the B2088 at Beckley.
The second phase of the scheme began yesterday (THU 11) and the third and final phase, which begins on Thursday, June 18, was due to see the road closed for two weeks between Iden Road and Military Road.
The county council's contractor has agreed to split the final phase in two, to ensure access to Rye Medical Centre and Rye Hospital is maintained throughout.
From Thursday (18) until Tuesday, June 23, the A268 will be closed from Iden Road to the medical centre, which will be accessible from the south.
From Wednesday, June 24, to Thursday, July 2, it will be closed from the medical centre to Military Road, with access to the centre from the north.
During this work, an escort vehicle will be provided to guide the community bus carrying patients from Rye through the roadworks to the medical centre and hospital.
For people wishing to approach the centre via the closed sections of road, a signed diversion route will be in place via Beckley, Broad Oak and Udimore Road.
Karl Taylor, East Sussex County Council assistant director of operations, said: "We've taken on board people's concerns and the revised plan allows us to safeguard our workers and the public while maintaining access to the medical centre.
"Inevitably works of this scale will cause some disruption, but we are working hard to minimise this through careful planning and by confining the working to off-peak times so we'd ask people to bear with us.
"The resurfacing is part of a £20m resurfacing programme across the county and will result in a smoother, safer ride for motorists for many years to come."