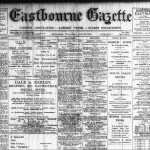 100-YEAR-OLD newspapers published in Eastbourne and Hastings during the First World War have been preserved for future generations after being made available online for the first time.
The editions of the Eastbourne Gazette, Eastbourne Chronicle, Hastings & St Leonards Observer and Hastings & St Leonards Pictorial Advertiser have been scanned and are available to browse on East Sussex County Council's First World War website.
So far, the collection covers the period from January 1914 to June 1915, while a fresh batch of scanned papers will be published every month, allowing people to follow the conflict as it unfolded a century ago.
The newspapers describe how Eastbourne rallied behind the war, including efforts made to enlist more men and to help wounded soldiers, and feature advertisements for products such as fire extinguishers to protect the home from Zeppelin attack.
A regular, and poignant, feature is the 'roll of honour' with details of local men who lost their lives in the war, while the papers also show how ordinary life, from council meetings to coroner's inquests and theatre performances, continued during wartime.
Cllr Keith Glazier, East Sussex County Council leader, said: "These newspapers offer an in-depth picture of both the progress of the war at the front and how life continued at home.
"They provide a fascinating glimpse into life in wartime and will be of interest to anyone with an interest in the period, as well as those researching their family history.
"Due to their age, some of the papers are in a very fragile state and will only deteriorate as the years go by, so digitising them means they will be preserved for future generations."
The archive currently features newspapers from Eastbourne and Hastings, but more titles will follow in the months and years to come, covering a wider area of East Sussex.
The newspapers can be viewed online at www.eastsussexww1.org.uk
Bygones in brief
Featured in the Eastbourne Gazette dated Wednesday, June 23, 1915
– By order of Major Edward J.J. Teale, chief constable, motorists driving along coastal roads were told to extinguish their headlights 'until the vehicle has reached a position from which the light is no longer visible from the sea'.
– An airman was charged with manslaughter after ploughing his motor car into a taxi cab on Eastbourne seafront. Magistrates heard Robert Hilton Jones, described by the Gazette as 'a fine looking young naval officer, tall, erect, with a fresh, ruddy complexion' did 'feloniously kill and slay' one Ernest Chinery, an employee of Bovill's garage, in Seaside.
– James Miles, a 13-year-old boy from Birling Street, was 'severely admonished' and sentenced to receive four strikes of the birch after stealing cake, cheese and an overcoat.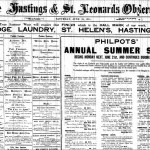 Featured in the Hastings Observer dated Saturday, June 19, 1915
With Hastings on alert for Zeppelin attacks, a batch of defendants appeared before town magistrates accused of allowing light to escape from their premises, among them Louisa Gooding, of Clive Avenue, who blamed a careless servant who left the Venetian blinds open.
Mrs J.H. Gibbs, of 42, St Mary's Terrace, Hastings, received unwanted news that her brother, Private Philip Fuller, died of wounds sustained in April during the ill-fated Dardanelles expedition. Another brother was recuperating but hoped to be out of hospital for the fall of  Constantinople and told his sister the Turks 'cannot bear the look of British steel and they ran  like rabbits'.
Unrest in Mexico was 'brought home to the residents of Crowhurst with terrible reality' with the news that a Mrs Mallard, of Brookside Cottage in the village, and her baby boy, had been murdered by revolutionists in the town of Tuxpam.
A 'freak of nature' in the form of a calf with two heads was born at Park Dale Farm, Battle. The beast had 'three ears, with the centre one acting as two'. 'Needless to say,' mused the Observer, 'it was an object of considerable interest'.