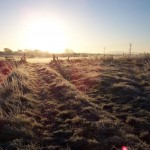 PEOPLE who use the rights of way and countryside sites of East Sussex have had their say in a consultation which will help shape how they're managed in the future.
Almost 900 people took part in an East Sussex County Council consultation on issues relating to the 2,000 miles of footpaths, bridleways and byways and 10 countryside sites the authority manages.
Meanwhile, more than 120 responses were received to a separate 'stakeholder survey' aimed at user groups, organisations, landowners and partners.
The council will use the feedback on how rights of way and the 10 countryside sites are used currently and how they could be improved, along with other information, to formulate a long-term strategy for their management.
Cabinet will be asked to approve a draft version of the plan early next year, with a further public consultation to be held before any final decisions are made.
Cllr Carl Maynard, county council lead member for transport and environment, said: "We were delighted with the response to the consultation.
"The feedback we received has given us a valuable insight into why people use the countryside as well as how our stakeholders are involved and their plans for the future.
"This will help us to create a long-term plan to ensure our rights of way and countryside sites can be enjoyed by future generations."
Of respondents to the residents' survey, 97 per cent had used rights of way and 85 per cent countryside sites in the last two years, with 60 per cent regularly enjoying the countryside for relaxation, health or to enjoy nature.
Respondents were asked how they accessed countryside sites and some used more than one method of travel – 82 per cent said they accessed sites by car, 38 per cent walked, 21 per cent used the bus and 20 per cent cycled.
Eighteen per cent of respondents said they wanted to see better access to rights of way while 27 per cent said there was nothing more that could encourage them to use them.
The top three activities reported by stakeholders for their involvement were enjoyment of the countryside, health and exercise and for monitoring and management.
The results of the consultations can be seen in full at www.eastsussex.gov.uk/futurecountrysideaccess