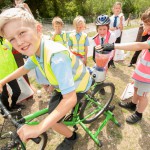 A NEW cycle route which provides safe passage between two East Sussex communities has been officially opened.
The Lewes to Ringmer Cycleway extends for one and a half miles and allows cyclists and pedestrians to avoid the busy B2192 Lewes Road and Earwig Corner junction.
After the first section of road, west of Ringmer, opened in 2010, the final one-mile section has now been completed, running alongside Lewes Road and joining the A26 via Mill Road.
The route was completed after South Downs National Park Authority secured £420,000 funding from the Department for Transport, with East Sussex County Council providing an additional £180,000.
Cllr Carl Maynard, county council lead member for transport and environment, said: "The new route is already proving popular with cyclists and pedestrians, allowing a safe route between Lewes and Ringmer, and will hopefully encourage more people to cycle or walk."
A ceremony was held yesterday (JUL 1) to mark the official opening by Cllr Maynard, while cyclists from local schools and cycling groups tested out the new route.
John Downie, 70, who lives in Lewes and co-ordinates a group of older social cyclists, said the new route had 'transformed' his rides into the surrounding countryside.
He said: "Some of our older riders found the original route to Ringmer was too traumatic, coping with Earwig Corner and the long grind uphill in the midst of traffic.
"Now, a short puff up Mill Road and we are round the back of Ringmer and beyond, giving us easy access to the network of great little Sussex lanes for fairly flat rides."
Neal Allistone, another Lewes-based rider, said the route had helped him to share his love of cycling with his five-year-old son, Taras.
He said: "My son likes to come on bike rides with me but is scared of the traffic. Since the cycle path was built I've been taking him out to Ringmer and we have lunch on the village green.
"Having more cycle paths to help him build confidence in riding and get further out of town and see more is great for encouraging a healthy lifestyle."
Land for the new route was provided by Sussex Wildlife Trust and the Glyndebourne Estate.