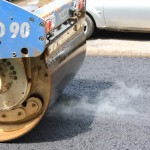 PUBLIC opinion will help to shape the future of highways and transport services in East Sussex.
A random sample of around 3,300 residents will be asked for their views on a range of subjects including pavement and road conditions, cycle routes, bus services, roadworks, rights of way and traffic management.
Feedback from the National Highways and Transport Public Satisfaction Survey will enable East Sussex County Council to compare results with other local authorities, share best practice and identify opportunities to work together in the future.
A total of 86 local authorities are taking part in the standardised survey including Brighton and Hove City Council, West Sussex County Council and Surrey County Council.
"While we are confident that we are doing a good job with a limited budget, we are always keen to hear the views of members of the public," said Roger Williams, head of highways at East Sussex County Council.
"The satisfaction survey will give us an idea of what residents think of the work we do, and what they consider the main priorities to be.  It also gives us the chance to share experiences and best practice with other authorities.
"Taking on board people's views of the work our highways team carries out can only help us to improve the service we deliver."
A random sample of residents in East Sussex will be invited to complete the survey and can do so by post or online. The results will be published in early October.
Mr Williams added: "We would urge anyone invited to take part in the survey to do so and help us shape the future of the service."