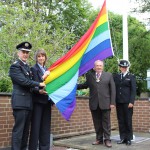 THE Pride flag was flying over County Hall today to mark this weekend's Brighton Pride celebrations.
The rainbow banner was hoisted aloft by Cllr Colin Belsey, East Sussex County Council chairman, in a ceremony at the authority's headquarters in Lewes.
He was joined by council chief executive Becky Shaw, Sussex Police deputy chief constable Olivia Pinkney and Des Prichard, chief fire officer for East Sussex Fire and Rescue Service.
This year's Pride celebrations kick off on Saturday morning (August 2, 2015) with a parade from Hove Lawns to Preston Park, venue for the day-long Pride Festival.
Events will also be held on Saturday and Sunday as part of the Pride Village Party, in St James's Street and neighbouring roads.
Cllr Belsey said: "Pride is a major event of national prominence happening on our doorstep, and gives us the ideal opportunity to affirm our commitment as a council to equality for all communities in East Sussex."
Chief fire officer Des Prichard said: "East Sussex Fire and Rescue Service is proud to be part of this year's Brighton Pride, which is celebrating its 25th anniversary.
"Staff will be showing support for the LGBT community by joining in with the events being organised to celebrate Pride including the procession and the party in the park. We will also be joined by representatives from other fire and rescue services across the country.
"We are dedicated to serving everybody that lives within East Sussex and Brighton and Hove and by taking part in Pride, we have the opportunity to get together and talk to people we might not otherwise have the chance to meet."