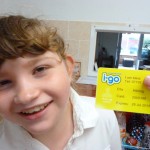 AN 11-year-old from East Sussex will be flying high after becoming the 1,000th person to sign up to a scheme for young people with disabilities.
Ella Hibling received a special golden i-go card and her pick of prizes donated by partners of the scheme, which provides special offers at leisure venues across East Sussex and neighbouring areas.
The youngster, from Seaford, who has a visual impairment, selected as her prize a ride on the Brighton Wheel.
Her mother, Alix Collins said: "It was lovely to hear the news – it's a really good scheme and Ella being the 1,000th member makes it quite special.
"Having the card means we can both go to Ella's favourite places more often. It will encourage us to try new things, and we will have more choice of places to visit."
Launched two years ago by East Sussex County Council and the Rockinghorse Children's Charity, the i-go card provides offers from venues and information to help ensure a hassle-free visit.
The scheme now boasts more than 80 partners, including leisure centres, attractions, activities and clubs, which have taken positive steps to improve their accessibility.
Cllr Sylvia Tidy, East Sussex County Council lead member for children and families, said: "The signing up of the 1,000th member is an ideal opportunity to celebrate the success of i-go in opening up new opportunities for disabled youngsters.
"I'd also like to give a big thank you to all the partners who have helped to make i-go such a success."
The scheme is open to children and young people aged 25 and under who have disabilities or special needs and live or study in East Sussex.
More prizes are on offer for scheme members, with a winner selected at random for every 100 applications received.
People can download an i-go application form online at www.parentlinksussex.org.uk/i-go or request one by calling Information for Families on 0345 60 80 192. A list of attractions on offer is available at www.escis.org.uk