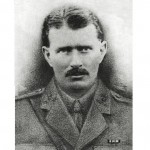 SEAFORD residents are being given the chance to commemorate the life of a First World War hero from the town.
Cuthbert Bromley, who was awarded the Victoria Cross for his bravery at Gallipoli, died aged 36 in August 1915 after the ship he was travelling in was sunk by a German torpedo.
Bromley, while not born in Seaford, spent some of his early childhood years in the town and Bromley Road was named after him.
A memorial paving stone and plaque commemorating his service and life will be unveiled at Seaford War Memorial, in Sutton Road, on Sunday, August 16 2015. People are invited to gather at 10.30am for an 11am start.
The event is being organised by East Sussex County Council, Lewes District Council and Seaford Town Council, as part of a series of activities marking the centenary of the war.
Members of Bromley's family will be also present to mark the event as well as the Lord Lieutenant and representatives of the three organising councils, other dignitaries and the Royal British Legion.
Bromley was wounded during the west beach landing and sustained a bullet injury to the knee on the April 28 1915. He was wounded again during the battle of Gully Ravine on June 28 and was evacuated to Egypt to recover.
On August 13,  returning to the Gallipoli Peninsula aboard the troopship Royal Edward, he was killed when the ship was torpedoed in the Mediterranean. Bromley was one of the six members of the Regiment awarded the famous 'six VCs before breakfast'.
An extract from the London Gazette of March 15 1917 reads: "The Lancashire Fusiliers in effecting a landing on the Gallipoli Peninsula were met by very deadly gun fire. The survivors rushed up to and cut the wire entanglements; the cliffs were gained and the position maintained. Bromley was selected by his comrades as performing acts of bravery and devotion."