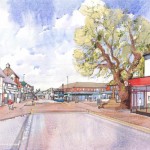 PLANS are being finalised for a £1 million scheme aimed at reducing congestion and improving Hailsham town centre.
The project, which will see road layout improvements, changes to parking and new pedestrian crossings, will affect High Street, Vicarage Lane, Vicarage Road and George Street.
East Sussex County Council is delivering the scheme in partnership with Wealden District Council, Hailsham Town Council and Hellingly Parish Council.
The council, which has modified the plans based on the results of a public consultation last year, hopes to begin work early next year.
The work is part of a programme of infrastructure improvements being funded entirely by developers of new housing schemes built in Hailsham and Hellingly in recent years.
Cllr Bill Bentley, county council member for Hailsham and Herstmonceux, chairs the steering group set up by the four councils involved to deliver the project.
He said: "Hailsham is a growing town with significant new housing development, resulting in increased traffic in the town centre.
"This scheme will help to reduce congestion, improve traffic flow and ensure we can cope with the increase in vehicle numbers, while improving conditions for pedestrians and public transport users.
"The project also gives us an exciting opportunity to improve the appearance of the town centre so it remains an attractive place in which to live, work and shop, with all the benefits to the economy that brings."
The scheme will see pavements widened and traffic speeds reduced, while Vicarage Lane will be made a one-way street open to southbound traffic only, to reduce confusion caused by the current layout.
The number of general parking spaces in High Street and George Street will be reduced to make way for disabled parking and loading bays for local businesses, but 14 additional spaces will be provided in Vicarage Lane and Vicarage Road.
Amendments to the original scheme, including changes to parking time limits, have been introduced as a result of feedback from last year's consultation and further comments from traders and other local stakeholders.
To avoid the busy Christmas period, work on the scheme is due to begin in February 2016 and will last for around 16 weeks.
Access to properties in the affected area will be maintained at all time, and residents and traders will be kept informed of traffic management plans which will be put in place during the work.
More information is available online at www.eastsussex.gov.uk/hailshamtowncentre