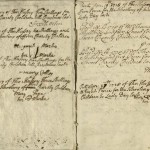 HISTORIC school documents dating from a time when even the teachers couldn't read and write have been deposited at a county archive centre.
The parchment books, now held at The Keep, in Moulsecoomb, are thought to be the earliest school records in Sussex.
They cover the period from 1727 to 1877 and show how Burwash Charity School was initially set up with a legacy of £100 from Revd George Barnsley.
The documents list the first 24 children to attend, the payments made to teachers, local builders and craftsmen and the amounts received from wealthy residents who subscribed to keep the school open.
In a stark illustration of how standards of literacy have advanced, two of the first three teachers employed in 1727, when asked to sign receipts for their wages, could only 'make their mark' – sign their name with a line or cross.
Cllr Chris Dowling, East Sussex County Council lead member for community services, said: "These books allow us to identify everyone involved in education in Burwash over 150 years, and are a very exciting addition to the collection at The Keep.
"They offer a fascinating insight into how society's expectations of education were very different to those we hold today.
"The fact that, in the early days, even some of the teachers lacked basic literacy skills suggests schools of this period provided little more than a child-minding service."
In the 19th century, children were expected to contribute 'school pence' – a penny a day – towards their education.
Bills were paid by the school in 1853 for whitewashing, bookbinding, coals and needles, while the children's handiwork was regularly sold and the money put towards the school's running costs.
By this time, numbers had risen to 74 boys and 84 girls, although children were often absent during the harvest or hop-picking season.
The final account in 1877 shows that the school operated under a system of two teachers, who taught the older children, and pupil teachers and monitors – all of whom were paid for their work – to teach the infants.