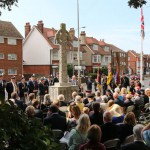 A WAR hero from Seaford who served in one of the most infamous campaigns of the First World War has been commemorated in his home town.
Cuthbert Bromley, who was awarded the Victoria Cross for his bravery at Gallipoli, died aged 36 in August 1915 after the ship he was travelling in was sunk by a German torpedo.
A memorial paving stone and plaque was unveiled at Seaford war memorial, in Sutton Road, in a ceremony organised by East Sussex County Council, Lewes District Council and Seaford Town Council on Sunday, August 16 2015.
Cllr Keith Glazier, East Sussex County Council leader, said: "This memorial will ensure that Cuthbert Bromley's name lives on in his home town for generations to come.
"His award of the highest decoration for valour in the British Army is testament to the incredible bravery he showed in the face of ferocious enemy fire."
Bromley was a captain in the 1st Battalion Lancashire Fusiliers when the regiment was dispatched to the Gallipoli peninsula, part of modern day Turkey, as part of the ill-fated Dardanelles campaign.
On April 25, 1915, he led the battalion onto a heavily fortified beach to the west of Cape Helles, where many men were killed in the face of ferocious fire from troops of the Ottoman Empire.
The London Gazette reported: "The survivors rushed up to and cut the wire entanglements, the cliffs were gained and the position maintained. Bromley was selected by his comrades as having performed acts of bravery and devotion to duty."
He was injured in the back during the landings but refused to leave his unit for medical treatment and was wounded again.
Later in the campaign, he received further wounds which required prolonged medical treatment in Egypt and it was while returning to Gallipoli that Bromley, by now holding the rank of acting major, drowned after his ship fell victim to a German U-Boat on August 13.
Attending the unveiling were Peter Field, Lord Lieutenant of East Sussex, Juliet Smith, High Sheriff of East Sussex, Cllr Colin Belsey, chairman of East Sussex County Council, Cllr Ruth O'Keeffe, chair of Lewes District Council, Cllr Dave Argent, mayor of Seaford, and representatives of the Royal British Legion.
Also attending were representatives of Cuthbert Bromley's regiment and members of his family.
The attack on the Dardanelles, which was abandoned late in 1915, cost more than half a million lives, was a major blow to the Allies and prompted the demotion of Winston Churchill, a key proponent of the campaign, as First Lord of the Admiralty.