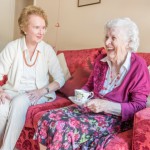 A SMALL army of volunteers is stepping in to offer practical help to those in need and fight social isolation in East Sussex.
East Sussex County Council is working with five community and voluntary organisations to support the development of Good Neighbour Schemes, set up new schemes and boost the number of volunteers across the county.
The schemes, run by co-ordinators in towns and villages, link people in communities that need support with volunteers who are able to help.
Volunteers offer transport to doctor appointments, help with shopping, gardening and housework. They also help with letter writing and filling out forms or just pop in for a cup of tea and a chat.
"I wouldn't be here if it wasn't for the volunteers who come to see me," said Audrey Mark Fort, who benefits from a Good Neighbour Scheme in the Wealden area.
The Forest Row resident is unable to walk on her own after having a fall and was spending more and more time alone at home.  But thanks to a Good Neighbour Scheme, Audrey now receives regular visits from volunteer Jennifer McInness.
Audrey said: "I wanted someone to talk to, as it's quite lonely when you can't get out and it's helped me so much. Jennifer and I have a really nice relationship."
Jennifer, a widow herself, visits Audrey twice a week and takes her out for a walk, picks up shopping and keeps her company.
"It makes me feel good to do something worthwhile," said Jennifer. "It's nice for me to meet different people and I am there for Audrey if she needs me or wants to talk."
For 94-year-old Irene Verrall from Hailsham weekly visits from volunteer Sue McGinnis have given her a 'new lease of life'.
"I enjoy the company and always get a lovely smile," she said. "It's good because she's given me a new lease of life and she's always cheerful."
While Irene benefits from the support and company, Sue said she gets a lot out of volunteering for a Good Neighbour Scheme.
"Meeting Irene has been fantastic, she has become like a mum to me," she said. "Visiting Irene has given me a lot as well and I always enjoy coming to see her.
"It works two ways and it's very rewarding. I didn't expect to become so close to Irene."
The day to day running of schemes is carried out by a local co-ordinator with the support of voluntary organisations.  Volunteers can pledge as much or as little time as they want.
Cllr Bill Bentley, East Sussex County Council's lead member for adult social care, welcomed the renewed focus on Good Neighbour Schemes across the county.
"East Sussex has one of the largest populations of people over the age of 85 in the country, with around 10 per cent saying they feel lonely," he said. "The Good Neighbour Schemes play a vital role in tackling the growing problem of social isolation.
"People within a community are usually well placed to see when their neighbours need a helping hand, a bit of support or just a friendly face to pop in for a chat.  It's the little things that can make a huge difference to the life of an elderly, vulnerable person."
More information about Good Neighbour Schemes, how to set one up and volunteering in the local community can be found here.
To find the nearest Good Neighbour Scheme click here.