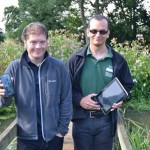 PEOPLE in East Sussex are being encouraged to get active and enjoy the countryside with the launch of a new online resource.
The Walking In East Sussex website brings together information about walks for people of levels of experience and fitness in one place.
It includes health walks for people of limited ability, guided walks organised by local groups and self-guided walks which can be followed by downloading a free walks app.
The new pages also include a calendar which allows walking groups and organisations to share their events.
The scheme is being backed by East Sussex County Council's rights of way team, which maintains 2,000 miles of footpaths, bridleways and byways in the county, and the authority's public health team.
Cllr Carl Maynard, county council lead member for transport and environment, said: "There is a lot of information available about walks in East Sussex, but until now this has only been available separately via various sources.
"This new website brings all that information together so that people can find all the information they need about walks suitable for them in one place."
The website features links to more than 30 circular walks of between one and nine miles, while the app features 18 self-guided walks around the county.
Cynthia Lyons, East Sussex acting director of public health, said: "Walking is an ideal way for people to stay fit and healthy, while enjoying the beauty of the East Sussex scenery.
"We hope this website will encourage more people to get out into the countryside and get active, with all the benefits for health and wellbeing that brings."
The website can be found here.