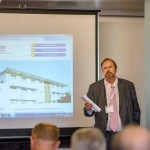 BUSINESSES which want to launch or expand can benefit from a new support service launched in East Sussex.
East Sussex County Council has contracted the Let's Do Business Group to launch Business East Sussex, which provides a single point of contact for those looking to start a new business or grow an existing company.
It will offer help to firms and put them in touch with organisations which can provide support, access to research and development, networks and funding.
The service has been launched as part of a Government-backed drive to establish 'growth hubs' to provide a one-stop shop approach to business support, with the aim of boosting economic growth.
East Sussex boasts 28,000 small to medium sized businesses, all of whom can access this service, and has the highest percentage of its workforce who are self-employed in the south east, with 20 per cent more than the south east average and 30 per cent more than the national average.
The service was officially launched by Cllr Rupert Simmons, county council lead member for economy, and Graham Peters, chairman of Team East Sussex – a body aimed at boosting economic growth and prosperity in the county.
Cllr Simmons said: "East Sussex is an outstanding place to do business but we as a council are keen to work with our partners to do even more to help enterprises to launch or grow.
"Business East Sussex will be the primary access point for business support in the county, ensuring companies can get the advice and help they need via a single gateway.
"I'd encourage any ambitious business to get in touch with the service and tap into the wealth of expertise and support available."
Business East Sussex can be contacted by calling 0845 6018326, by emailing info@businesseastsussex.org.uk, online at www.businesseastsussex.org.uk or on Twitter @BizESussex